Small Disadvantaged Business – As a blind business owner, Alex has registered CSNW as a Small Disadvantaged Business (SDB) through the Government Contracts Assistance Program (GCAP). Importantly, 3% of funds on Federally-funded contracts, such as contracts through the US Departments of Agriculture, Energy, or Forestry, must be spent with SDBs. Furthermore, including an SDB on your application for Federal funding may improve your application score.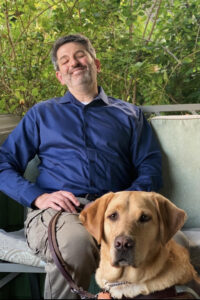 How did Carbon Solutions Northwest come about?
Alex was first exposed to renewable energy and GHG emissions reductions in 2003 while working for Frishberg & Partners in Ukraine. In this capacity, he prepared financial due diligence for a GHG-reduction project involving a municipally-owned Ukrainian hot water & steam generation and distribution facility. This initial experience in Ukraine motivated him to look for practical, financially-sustainable ways to generate renewable energy and/or reduce GHG emissions.
After selling his share in Frishberg & Partners in 2006, Alex founded Carbon Solutions Northwest in early 2007. In this capacity, Alex has extensive experience: 
Identifying, evaluating, and negotiating offtake agreements that support renewable-energy projects, including Power Purchase Agreements and Renewable Natural Gas Offtake Agreements; 

Helping project owners evaluate the highest and best use of their project's renewable resource, thereby maximizing their project's financial performance; 

Monetizing transferrable tax credits, such as Oregon's Business Energy and Biomass Tax Credits; 

Commercializing environmental attributes, such as California Climate Offsets(CCOs), Renewable Energy Certificates (RECs), Renewable Identification Numbers (RINs), and Oregon Clean Fuels Program (CFP) credits;

Analyzing issues associated with valuation and interconnection of Renewable Natural Gas; and,

Preparing GHG inventories, carbon footprints, and emissions-modeling analysis. 
Representative clients include: 
Portland's Columbia Boulevard Wastewater Treatment Plant

Northwest Natural Gas

The NW Gas Association 

The Port of Tillamook Bay

Wellons, Inc. 

Lime Wind 

The Town of Lakeview, Oregon
Alex Schay is a regular speaker regarding renewable-energy and GHG-reduction issues at regional conferences and workshops. Call or email to inquire about having Alex speak at your next conference, workshop, seminar, or corporate meeting.
Alex has a Masters in International Management (MIM) from The Thunderbird School of Global Management in Glendale, Arizona.